FRSS DESTINATIONS – TRAVEL MAP
WE ARE MORE THAN HAPPY TO ANNOUNCE ALL THE LOCATIONS THAT THE FRSS WILL TAKE PLACE ΑΤ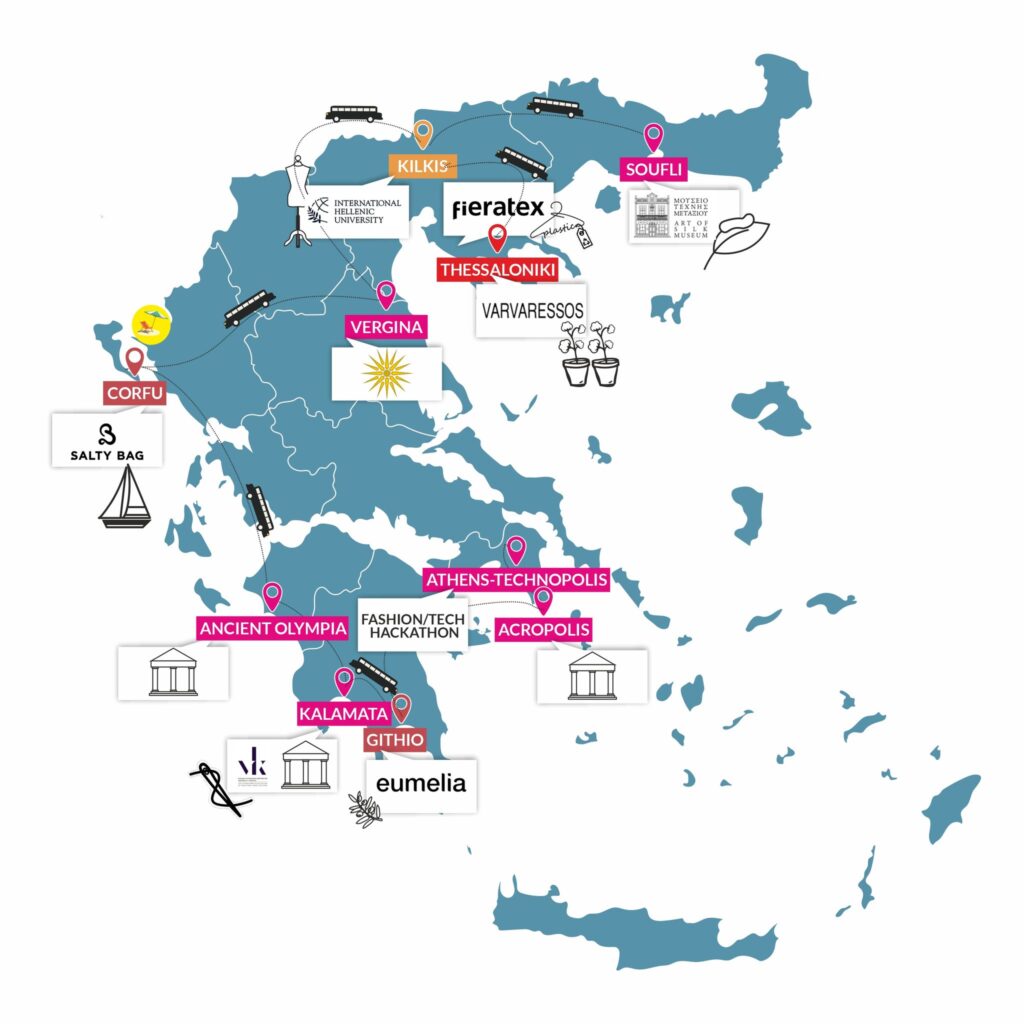 From the moment students arrive in Greece, they will be a part of unique, curated guided experiences. The school will travel around major Greek geographical locations from 3-23 June, to visit various fashion and cultural heritage sites from the North of Greece to the islands of the Ionian Sea, to the Peloponnese, and finally to Athens. Every day, participants will attend the lectures from 9.00 -13.00 and participate in the various workshops that are taking place in each area.
FRSS travel experience has been designed with our travel partner 'OUR TRAVEL' an experienced agency for educational travels, offering high-quality accommodation proposals and tour leaders.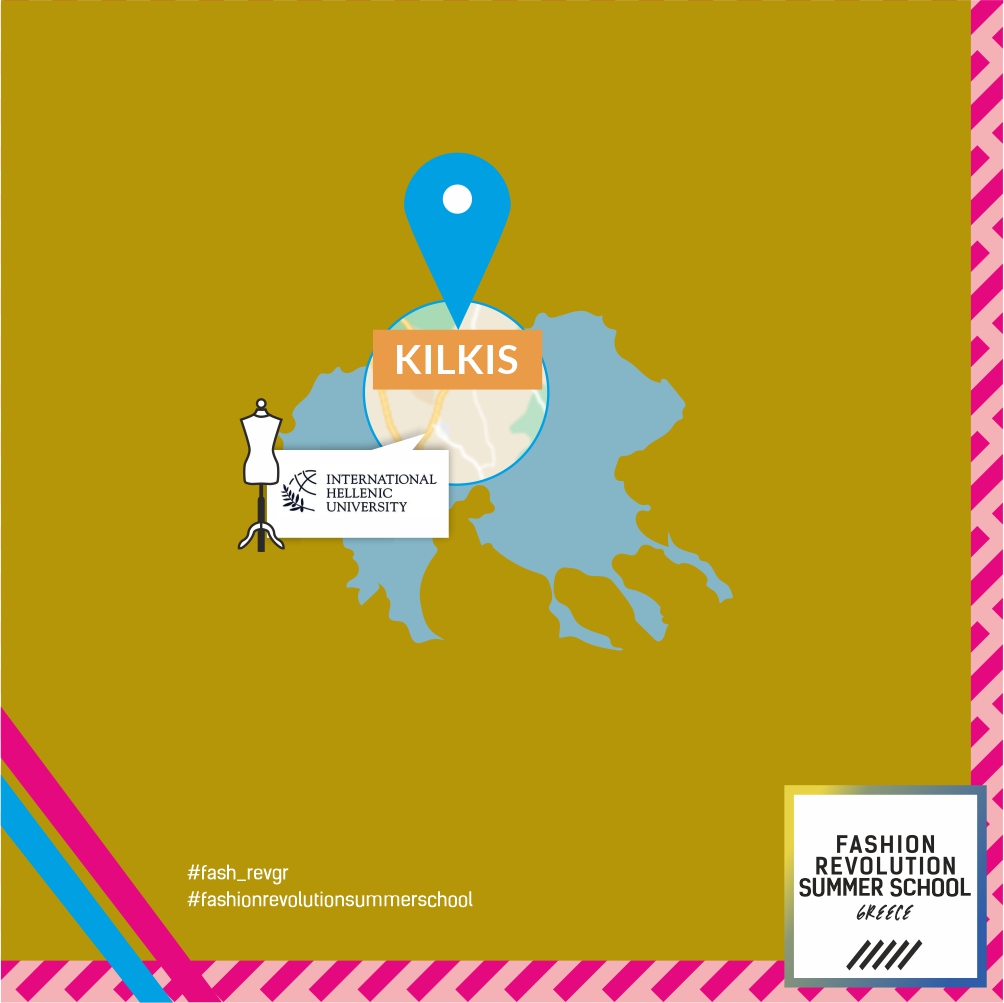 At 3-5 June, FRSS will be at North Greece, an area of the Greek textile and fashion industry, hosted by the International Hellenic University (IHU), having our Lectures & workshops at their premises.
We will learn about the famous Soufli Silk, at the dedicated Workshop in collaboration with Soufli Silk Museum.
We will visit Fieratex, a leading textile company, applying sustainability in the supply chain and creating recycled plastic textiles.
We will visit Varvaresos, a European Spinning Mills, applying innovative solutions towards ethical and sustainable development.

(hotels: HABITAT HOTEL 3* & EVRIDIKI HOTEL 3* )
Leaving north Greece on 6 June, we will move towards Corfu and have an amazing tour archaeological site of the Vergina Ancient area from certified guide operators. We will learn about the symbol of Aigai (Vergina), the mosaics and painted stuccoes of the site, some of which date from the 11th century B.C & the wall paintings of the so-called Macedonian tombs.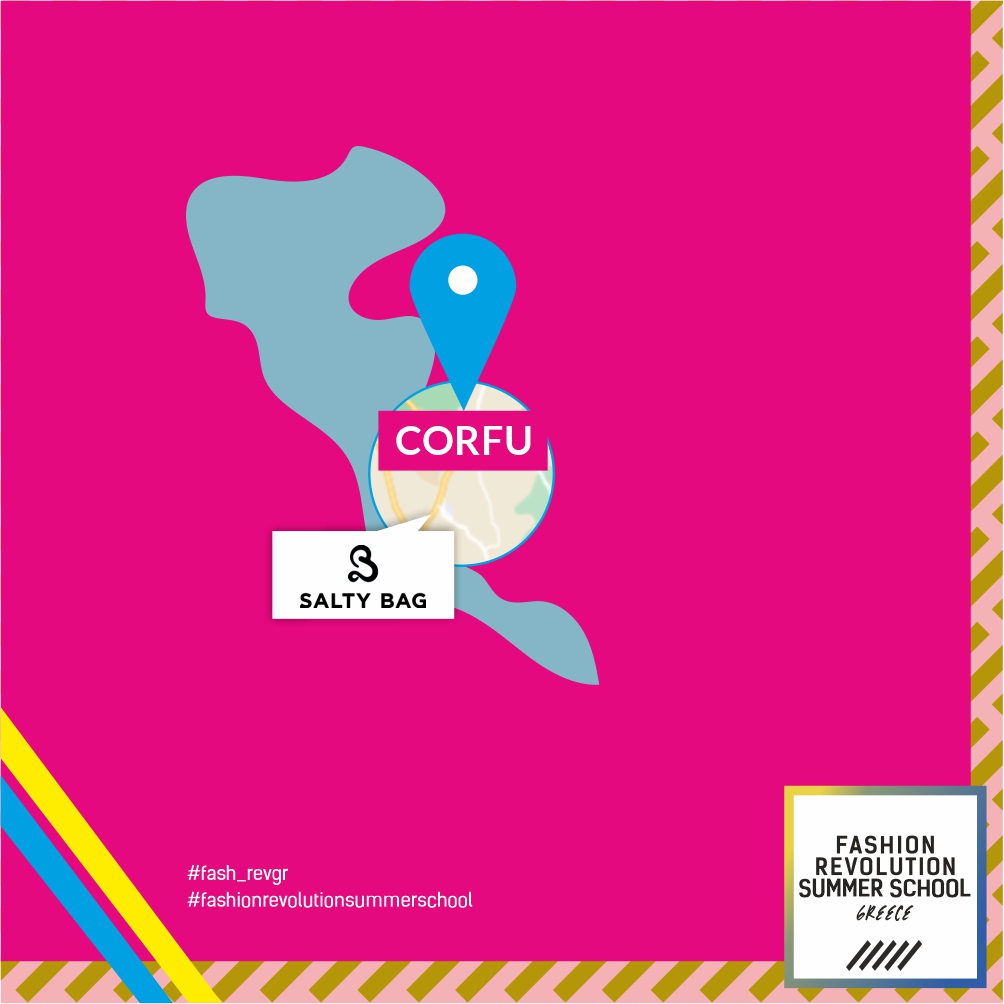 At 7-10 of June FRSS will be at Corfu.
We will meet Salty Bag, an upcycling company making bags and travel goods from decommissioned sails.
FRSS will have a sustainability tour to meet with local brands and artisanal in Corfu.

We will have a unique experience of learning on the boat, while having our one-day trip to Antipaxi island, with a private 'kaiki' boat.
We will visit the Corfu Museum of Asian Art and enjoy its collections and exhibitions, comprising approximately 15.000 works of Asian art from private collections and individual item donations.

(Hotel: ARION HOTEL CORFU 3* )
Leaving Corfu, we will move towards Kalamata and stop for an amazing tour archaeological site of Ancient Olympia, which is located near the modern village called Ancient Olympia. The site covers an area with ruins from the Bronze Age to the Byzantine eras, as well as the ancient stadium where the Olympics took place.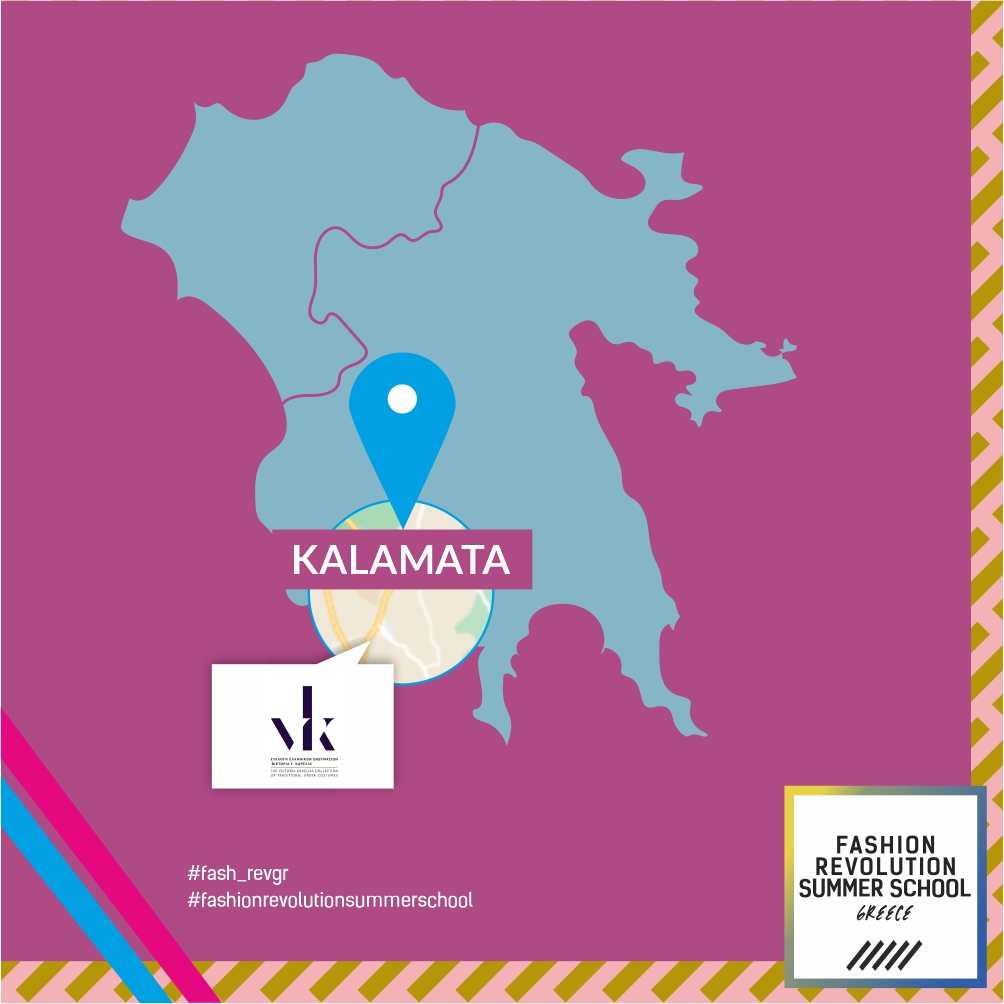 At 11-13 of June FRSS will be in Kalamata. Lectures & workshops will be realized at the Karelia Museum premises, which consists one of the largest folk costume collections in Greece.
We will have an embroidery workshop, presenting traditional techniques and contemporary applications, along with the theory of symbols per area.

We will have a weaving workshop and presentation of traditional weaving techniques, implemented in historical monasteries around the area. This will be held at local monasteries located in the North of Kalamata. 
(Hotel: PHARAE PALACE HOTEL 4* )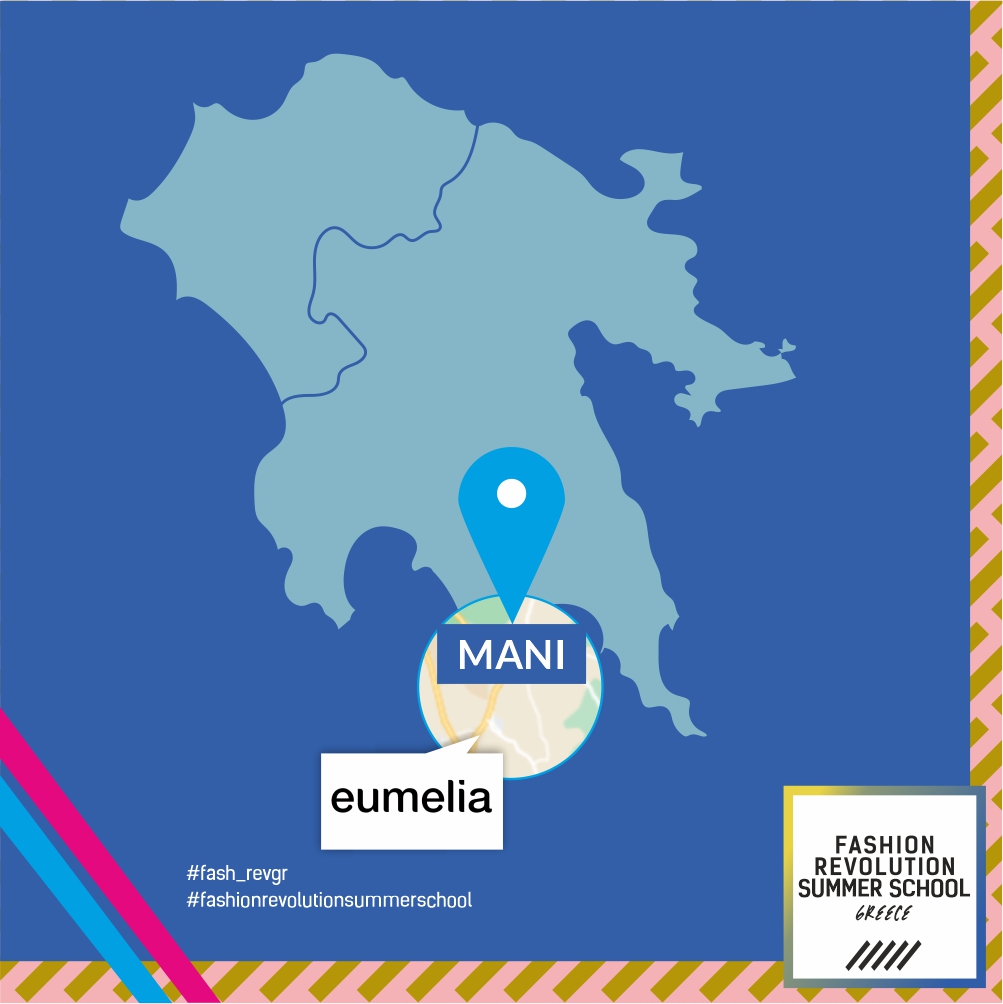 At 14-16 of June FRSS will be in Mani area. During our stay there we will visit Eumelia, a Regenerative organic agrotourism ecotourism Farm. We will enjoy a holistic experience of food, from the farm to our table.
We will have one evening dedicated to Fashion film screening and panel discussions with the experts that will accompany FRSS. Screening and a panel discussion will also take place together with a farm-to-table dinner at an open-air cinema in EUMELIA farm.
Also on the second day, we will enjoy traditional Greek food from the farm and a live band of well-known Rebetiko music, which is included on UNESCO's Intangible Cultural Heritage List.

(Hotel: AKTAION RESORT GYTHEION 4* or BELLE HELENE HOTEL 4* )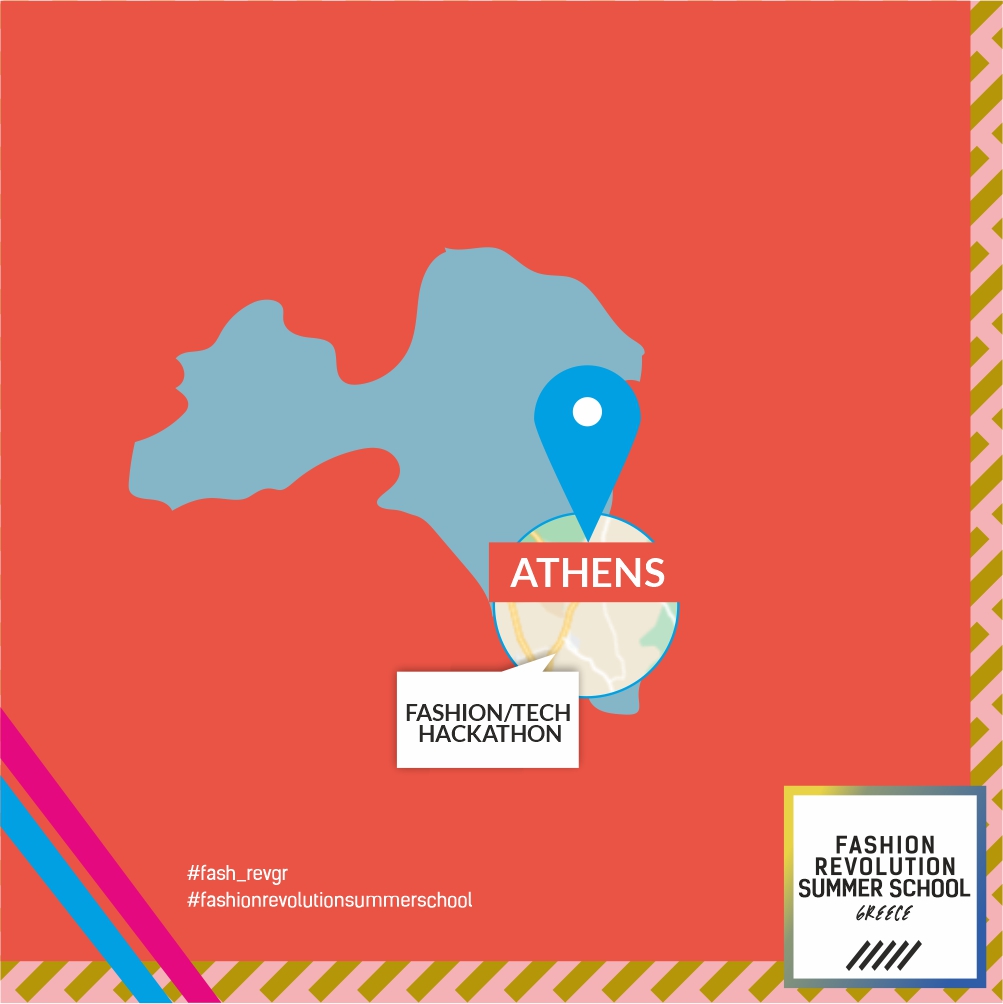 The last stop for FRSS is in Athens, with our partner Athens University of Economics & Business, hosting the school from 17-20 June. The lectures will be held at AUEB premises.
We will visit at Acropolis site & museum, which is a designated UNESCO World Heritage Site (UNESCO, 1987), and have a workshop on ancient symbols. The Acropolis is the symbol of democracy and the Greek civilization, symbolising also the beginning of Western civilization.
A sustainability tour to local brands is organised, meeting the creators of sustainable brands and circular fashion projects in various regions of Attica.

(Hotel: ILISSOS HOTEL 4*)
Finally, all participants that attend FRSS school will participate in the FASTECH HACHATHON, which will take place in Athens on 21-23 June. The HACHATHON event will include workshops, with pitching ideas and group formation as well as an Award Ceremony & Closure Event.
At the end of the third week, if students decide they would like to stay longer, they will be able to shadow professionals of their interest for one or more weeks or have a short-term internship in a social or circular fashion enterprise/brand, i.e SOFFA, Salty Bag, 3 Quarters.
For more information contact: summerschool.fashrevgr@gmail.com