FAQ
If you are looking for quick answers to the most important questions about FRSS, our FAQs are here to help. If you still have questions, please contact us at summerschool.fashrevgr@gmail.com
1. ABOUT FASHION REVOLUTION SUMMER SCHOOL (FRSS)
Fashion Revolution Greece and Athens University of Economics and Business inaugurate the first Sustainable Fashion Summer School in collaboration with FR USA, FR Global, FR Local Offices, Lasell University and leading Universities and sustainable fashion institutions in the USA, Europe and Latin America. An international educational event brings Greece to the center of the international community of Sustainable Fashion every June from the summer of 2024 and online throughout the year. Since 2015, Athens University of Economics and Business has been coordinating a series of European sustainable fashion and textile management projects in collaboration with Fashion Revolution Greece and international actors. Fashion Revolution Greece is a member of the largest activism movement that fights for a global fashion industry that preserves and restores the environment and puts the value of people above growth and profit.
Over 25 top educators from institutions from the U.S. and Europe – for example: the Fashion Institute of Technology, the Pratt Institute, the University of Exeter, St. Martins, London College Fashion, the Institute of European Design – will travel with us in June 2024 for the 3-week educational program that will be delivered to graduate students and industry professionals from all over the world.
Fashion Revolution Summer School in Greece is a yearly program of the Athens University of Economics and Business offering two levels of studies:
Professional Certificate in Sustainable Fashion Management (3weeks)
Student Program in Sustainable Fashion Management (3 weeks- 5 credits)
3day Fashtech Hackathon event
1 week shadow to circular fashion best practices (optional)
The Summer School, together with teachers, professionals, and students, will travel on 5-25 June from Thessaloniki, Kilkis, Corfu, Kalamata, Mani and Athens, where they will visit fashion venues of the entire supply chain from raw material production to circular manufacturing for the application of sustainable practices in the sector, archaeological sites and monuments of cultural heritage. They will receive a holistic educational experience from the experts of the field and will gain knowledge and experience in the field of textiles and circular construction in Greece. The topics of the program of study include:
Sustainable Design & Materiality
New Business Models, Circular Manufacturing & Logistics
Digital Fashion, Heritage & Ethics
Policy
At the end of the program, students will test their knowledge, implement new resources and further their co-working skills during internationally recognized FRSS Fash-Tech Hackathon. Experts from the local IT ecosystem and regionally acclaimed fashion designers will be invited to work together with the students to incorporate and pitch venture ideas at the FRSS closing ceremonies.
Deadline for early bird registrations: 31 October 2023
Deadline for applications: 15 February 2024
Onboarding Drop in Session for registrants: Late March 2024
Arrival date: 2 June 2024
Fashion Revolution Summer School 2024: 03-23 June 2024
FRSS is a 3-week program with an added Fashtech Hackathon component. The program will travel from Northern to Southern Greece in a seminar format. The School together with its educators and students will travel in June 3-23 from Thessaloniki, to Kilkis, to Corfu, Kalamata, Mani and Athens where students will be having hands on experience in the various textile and circular manufacturing sites in Greece.
On the map below you can see the destinations we will visit during the 3-week program: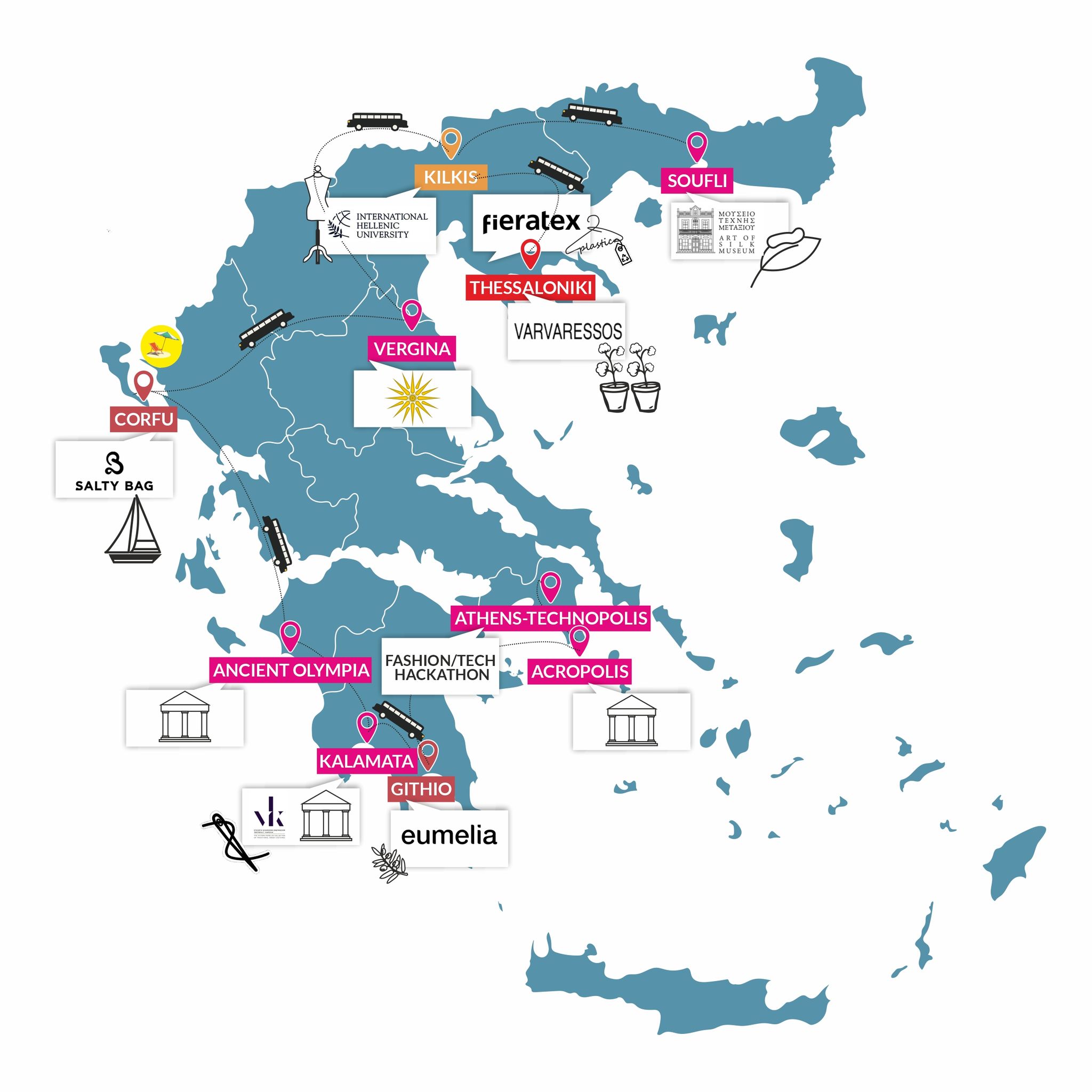 Free time to digest all the experience is so important. The days will be filled with opportunities for workshops, lectures, and other regional immersions. Most nights are free and open as a time to reflect, relax and connect.
2. ABOUT THE APPLICATION PROCESS
Registration is only confirmed upon receipt of tuition payment in full and all rules, regulations, and shared provisions of this program must be followed. Candidates will find the FRSS registration form through the How to apply page. Through the completion of the form, they will select their preferred travel package, choosing single or double rooms and they will complete their application through Online payment.
In case you need a visa to travel to Greece, we recommend applying for your VISA at least 2 months before your travel date.
The Summer School is offered by Athens University of Economics and Business-AUEB. AUEB is ranked among top Business Schools internationally: According to QS World University Rankings (2019), AUEB was ranked among places 101-150 in the field of Accounting and Finance. According to US News (2020) AUEB was ranked in place 218 globally in the field of "Economics and Business". Transferring credits among universities is a global practice of most universities. you would have to check with your University Department office to ask them what documentation they need to match and transfer the courses of the Summer School to your degree.
The online application form includes the following sections:
Personal information
Contact information
Academic background information
Τhe topics that you are mostly interested
The goal for participating in this program
Dietary requirements
Medical information
Supporting documents:

Curriculum Vitae
Portfolio (if applicable)
For more information on how we collect and use your personal data, and your rights as a data subject, please read our Privacy Policy in full.
The FRSS program offers two different Registration Plans for these 3-weeks.
Registration Plan 1: A. Professional Certificate in Sustainable Fashion Management or B. Students Program in Sustainable Fashion Management with a Single Occupancy accommodation: €5.550 (US$ 5.935). Early Bird discount: -15%
Registration Plan 2: A. Professional Certificate in Sustainable Fashion Management or B. Students Program in Sustainable Fashion Management with a Double Occupancy accommodation: €4.850 (US$ 5.186). Early Bird discount: -15%
Travel costs are based on 2023 travel prices and may subject to slight changes for June 2024
For all FRSS Communication, please refer your query to the Onboarding Coordinator at summerschool.fashrevgr@gmail.com. Once you have fully registered for the program, our Travel Agency will contact you to arrange for your inbound and outbound travel ticket and any other travel services you may need beyond the duration of the FRSS program.
At this time it is required that all registered participants (student and professional development) attend the full FRSS Greece program. Changes in attendance will void credit transfers and the ability to receive certificate accolades and recognition. Tuition is all-inclusive and modifications due to participation timing, health, environmental conditions are not available under any circumstance. It is the sole responsibility of the student to arrive on time every day, with no expectations. Group tours will not wait for delayed participants.Registration is only confirmed upon receipt of tuition payment in full and all rules, regulations, and shared provisions of this program must be followed.
We have differentiated the travel from the tuition and our Travel agency will make customized options when possible. Each student or group of students will have the opportunity to be in direct contact with this Travel Agency.
Regarding the participants from Athens:
For double occupancy: the discount can be 410 €, calculated in the half twin room package. So the package rate minus the 8 overnights in Athens Hotel will be 2330€ – 410 € = 1920 €.
For the single room the discount will be 560€. So, the package rate minus the 8 overnights in Athens Hotel will be 2950 € – 560 € = 2390 €.
Regarding the number of participants there is a limit to participants. However, there are still available places.
Our affiliation with the government and philanthropy in Greece has provided scholarships for the Greek community. For the present Summer School, we have received grant funding which has been channelled and integrated into our participation tuitions. Before our total for each person was above $6.000 per person, since we have applied the funding we have been able to off inclusive pricing for all participants to be around $5.100. We recognize that most people who are students and are just beginning their careers are seeking funding support; this is why we chose to model a tuition reduction across the board. We continue to actively seek other funding strategies, as well as to offer support for students to use our copy content to apply for funding within their institutions. To further aid students, we offer together with various companies scholarships to students with need. Please keep checking our website.
Any kind of cancellation request should only be sent to the following email: summerschool.fashrevgr@gmail.com Registration cancelled before March 1, 2024 is refundable but subject to a €50 administrative fee. Registrants cancelling on or after March 1, 2024 will not receive a refund. In the event Fashion Revolution Greece must cancel the Summer School 2024 due to unforeseen circumstances, the cost of registration will be refunded. In case of confirmed cancellations, refunds are settled as below:
In case the payment of the registration fee was settled via debit /credit card and as long as the card remains active, the refund is completed within seven (7) business days.
In case the payment of the registration fee was settled via bank wire or in case the debit /credit card used for payment of the registration fee has expired, the refund is completed within 90 days after the end of the event. In this case, the applicant should send the full details of his /her bank account* via email for the refund (Bank Name, Beneficiary Name and IBAN). Please note that any remittance costs will be borne by the recipient.
* Please note that in case the applicant's bank account belongs to a bank outside of European Union, additional bank account details might be requested in order to complete the transaction.
3. ABOUT YOUR STAY IN GREECE
The school will travel around major Greek geographical locations from the North of Greece to the islands of the Ionian Sea, to the Peloponnese and finally to Athens. FRSS travel experience, has been designed with our travel partner OUR TRAVEL, offering high quality accommodation proposals. Below, you can find the list of hotels:
From 15 March 2022 onwards, travellers visiting Greece are no longer required to fill out the Passenger Locator Form (PLF). Additionally, as of Sunday 01.05.2022 and for as long as the epidemiological data allow so, all travellers arriving in Greece, regardless of their country of origin, are no longer required to display a valid certificate of vaccination or recovery from COVID-19, or evidence of a negative test result from SARS-CoV-2 infection (PCR or Rapid Antigen test). However, a simplified PLF remains in operation, the completion of which is OPTIONAL, for the sole purpose of enabling the traveller to issue an EU Certificate of negative or positive COVID-19 test result. Travellers, who decide to fill out the simplified form, will receive the PLF with their unique Quick Response (QR) code via email (the QR code will be provided in a link in the email). The PLF can also be found on the Visit Greece app and at travel.gov.gr. We recommend that all travellers review guidance from the World Health Organization and follow any travel advice issued by their home countries.